"The best thing about the future is that it comes one day at a time."
– Abraham Lincoln, 16th President of the United States
One of my philosophies of life is that what we do each day and who we do it with determines our satisfaction in the moment and manifests our future.
You are watching: The best thing about the future is that it comes one day at a time
Consider yourself as a gardener, where each day you sow the seeds of success in your professional and personal world, and take care to water and weed your crop throughout the growing season to reap the harvest of a better future.
Exercise:
Take particular note of the daily behaviors and habits that are contributing to a better future.
Recognize where some of your daily efforts or lack of action are creating a less than desirable future and know that it's not too late to start over tomorrow – because the future, as Lincoln suggests, comes one day at a time.
See more: Saint Vincent De Paul Auburn Wa Y N Auburn, Wa Furniture Used
This entry was posted in Future and tagged Abraham Lincoln by Barry. Bookmark the permalink.
Get Quotes to Your Inbox
Subscribe now for daily wisdom in your inbox.
The Quotable Coach Book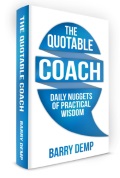 The Quotable Coach: Daily Nuggets of Practical Wisdom is available as an e-Book or in Paperback.
See more: The Remote Server Returned An Error 503 Server Unavailable, The Remote Server Returned An Error: (503) Server
Or, if you prefer, you can find out more about the book here.
Categories
CategoriesSelect CategoryAbilityAbundanceAcceptanceAccountabilityAchievementsActionAdaptationAddictionAdventureAdviceAgeAlivenessAlternativesAmbitionanalysisAngeranswersAnticipationApathyapologiesAppreciationArgumentsArtAspirationsassumptionsAttentionAttitudeAttractionauthorityAvoidanceawarenessbalanceBeautyBehaviorBeliefsbelongingBetrayalblameBooksBoredomBoundariesbrainstormingBraveryBreakthroughsBreathingBrevityCalmnessCareerCaringcelebrateChallengesChangeCharactercharityCheck UpChoicesClarityClicheclutterCoach-abilityCoachesCoachingCoaching QuotescollaborationComfortCommitmentCommunicationCommunitycomparisonCompassionCompetitionComplaintscompromiseconclusionsConductConfidenceConflictConformityConfrontationConnectionConscienceConsciousnessConsequencesConsistencyContentmentContextContributingcontrolCooperationCourageCourtesycreative tensionCreativityCriticismcuriosityDaringDeathdeceitDecencydeceptionDecisionsDeedsDeliberateDelightDenialDesireDestinyDeterminationDevelopmentDialogueDifferenceDigestiondignityDirectionDisciplinediscomfortDiscoveryDistractionsDistressDiversityDoubtDreamsDutyEducationeffectivenessefficiencyEffortemotionempowermentencouragementEnduranceEnergyEnrichmententhusiasmEntrepreneurshipEnvironmentenvironmental issuesEnvyEthicsexaggerationExcellenceexcusesExerciseExhaustionExpectationsExperienceExperimentationExplorationExpressionsExtrovertFailureFaithfamiliarityFamilyFateFearfeedbackFeelingsFinancial SecurityFinishingflexibilityFlowFocusFollow ThroughforgivenessfortunefreedomFriendsFriendshipfrugalityFulfillmentFunFutureGenerosityGeniusGentlenessGivingGoalsGood CompanyGood LifeGood WillGoodnessgossipGratitudegreatnessGreedGrowthGuidanceGuiltHabitshalloweenHappinesshealingHealthHeartheartacheHelpingHeroesHomehonestyHonorHopeHorizonsHumanityHumilityHumorideasIdlenessImaginationImpactImpermanenceImprovementImproviseindependenceIndifferenceInertiaInfluenceInitiativeinner voiceinnovationinsightInspirationinstant gratificationIntegrityintelligenceintentionintrovertintuitionjealousyJournalingJourneyingJoyJudgementKindnessKindred SpiritsKnowledgelanguageLaughterLazinessLeadershipLearningLegacyLiesLimitationsLimitsLineageListeningLiteracyLittle ThingsLiving WelllogicLongevityLooking ForwardLoveluckMaintenanceMannersMasteryMeaningmeditationMemoriesMentoringMicroresolutionsMindMindfulnessMindsetMistakesModerationmomentumMonotonyMoodMortalityMotivationMotivational QuotesMysteryNatureNecessityNeedNegativityNetworkingnobilityNutritionObjectivesObjectivityobservationobstaclesOfferingsOlympicsopinionOpportunityOptimismoptionsOrganizationOriginalitypainparentingPassionPatiencePausingPeaceperceptionperfectionPerserveranceperseverancePersistencePersonal ExcellencePersonal GrowthPerspectivePersuasionPhilosophyPicturesPlanningPlayPleasurePositivePossibilitiesPotentialPowerPraiseprejudicePreparationpresenceprinciplesPrioritiesProblem SolvingProblemsProcrastinationProductivityProgressPromisesProsperityProtectionPublic SpeakingPunishmentPurposequarrelsquestionsQuietQuotchingQuotesReadingsRealityReciprocityrecyclingReflectionregretRelationshipsRelaxationrelevanceRenewalRepetitionRepititionreputationResistanceResolutionsResourcefulnessrespectResponsibilityRestResultsRetirementRichesRiskRulesRushingSafetySalesSatisfactionSciencescore keepingSearchingSecurityself ImageSelf Improvementself-acceptanceSelf-Awarenessself-determinationself-disciplineself-pacingself-reflectionSerenityserviceSetbacksShadowsSharingShortcutsSilenceSimplicitySimplifySincerityskillSleepSmileSocietySolitudeSolutionsSoulSpiritStarting OverSteadinessStillnessStoppingStorytellingstrategyStrengthStressstrugglestubbornnessSuccessSupportTacttalentTeachingTeamworkTechnologyThankfulThe Golden RuletherapyThinkingThoughtTimeTime ManagementtitlesToolsToughnessTracy LavertytrainingTransformationTraveltriumphtroubleshootingTrusttruthTryingUncategorizedUnclutteringUnderstandingUniquenessUnityUrgencyValueValuesVarietyVirtueVisionVocationvulnerabilityWaitingWeaknessWealthWillwinningWisdomwishesWordsWorkWorryYellingZig Ziglar
Like on Facebook